'Nihongo' Program
'Nihongo' Program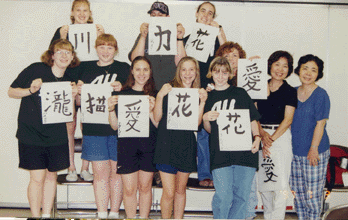 Intensive Japanese Language Study
Labo's NIHONGO (Japanese language) program combines classroom study, experiential learning, and homestays to give North American teens the opportunity to learn the fundamentals of the Japanese language. The word 'Nihongo' means 'Japanese language' in Japanese.
Program Highlights
Dates

The NIHONGO program begins during the third week of June, and lasts for three weeks. Students then have the option of staying in Japan for the four-week homestay, or returning home.

Eligibilty

Any student sincerely desiring an intensive introduction to the Japanese language is welcome to apply.

Curriculum

The goal of this course is to give students a firm foundation in the fundamentals of daily Japanese. Students are taught about 20 basic grammatical structures, around 300 words, the hiragana and katakana alphabets, and about 30 kanji characters. In addition to regular textbook studies Labo incorporates a number of

'learning by doing'

activities in the daily classes, such as learning Japanese songs, writing and performing a short play, writing reports on cultural activities, and field-trips to practice Japanese in real-life situations.

Classes

Classes are determined by prior Japanese knowledge, and are age-integrated. There are between 10 and 15 students in each class. Teaching is done by teams of nationally certified Japanese language teachers.

Cultural Activities

Participation in an authentic tea ceremony, classes in brush calligraphy, a trip to the Kabuki Theater, and other similar activities help give students an understanding of the

cultural foundations

of the Japanese language. Please note that the cultural activities available will vary every year.

Field Trips

Students make trips to the local post office, train station, restaurants, and shops in order to practice their new language skills in real-life situations.

Homestays

All students live with

Labo families in the Tokyo area

. Host families are given a copy of the text and class schedule, so in the evening they can help students practice what they learned in class that day. This 'round the clock' learning is especially effective in helping students master new vocabulary and grammatical structures.
The first day the host family will accompany students to class, but after that they are expected to commute to class on their own.

Academic Credit

Some students arrange to receive

credit

from their schools in the United States or Canada. Labo is happy to assist by providing details of the curriculum, and providing documentation of progress during the course.

Cost

The NIHONGO fee covers:

All travel in Japan: airport to and from Tokyo, commuting pass, field trips, and cultural activities.
Food and lodging (except for lunch on school days): hotel stay at arrival and departure, and homestays.
All school materials.

NOT INCLUDED: Travel to and from Japan, and lunch on school days.

For more details and to find your nearest Coordinator, contact the Labo office.