Labo Teaching-Information Center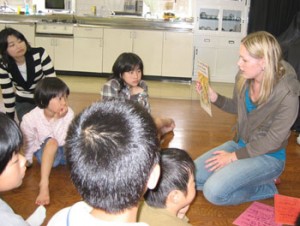 The Labo Teaching-Information Center was founded in 1966. On the crest of the wave of internationalization, and responding to concerns about Japan's rigid and formal educational system, the founders of Labo had a vision of learning — especially learning foreign languages — being fun and natural.
Today, Labo offers an integrated program of language learning, cultural awareness, and personal discovery and growth. Dedicated Labo staff and volunteer leaders work to help children grow into well-rounded, open-minded, and responsible members of society.
The Labo Teaching-Information Center, headquartered in Tokyo with 10 branches throughout Japan, organizes local Labo Party clubs, trains Tutors to lead the clubs, oversees the Labo Camps throughout Japan, and arranges with the non-profit Labo International Exchange Foundation to provide international exchange opportunities for Labo members.
A Community-Based Youth Club
The heart of Labo is the Labo Party youth club.

There are over 2,000 Labo Parties throughout Japan, with more than 20,000 members. Each Labo Party is organized by a Labo Tutor — an adult leader. Each Tutor must complete a 10-week training course, after which she invites young people from her community to become Labo members and participate in her Labo Party club activities. Tutors often become trusted family friends — working with the parents for the benefit of the children.

Families are an important part of the Labo philosophy.

Parents often attend Labo Party meetings with their young children, and they are encouraged to practice their Labo songs and plays with their children.
This strong reliance on families and community-based leaders encourages Labo Parties to meet local needs while benefiting from a national organizational structure.
Labo Party Activities
At Labo Party meetings, students learn stories, songs, and plays from around the world which have been recorded in both Japanese and a foreign language — usually English. CD's of these works, accompanied by high-quality illustrated books, are produced by the Labo office in Tokyo. There are over 100 bi-lingual stories and plays and 300 songs in the Labo library.
After school and on weekends, Labo members between the ages of 3 and 18 work together to act out the stories. The results are lively and creative productions, which are presented at regional Labo gatherings and at various community events.
Labo members also participate in seminars and symposia on a number of topics of concern to young people. "Nature and the Environment" and "Comparative Educational Systems" are examples of topics discussed at such seminars. Weekend retreats, district gatherings, and participation in local festivals and other community events are also important activities for Labo members.